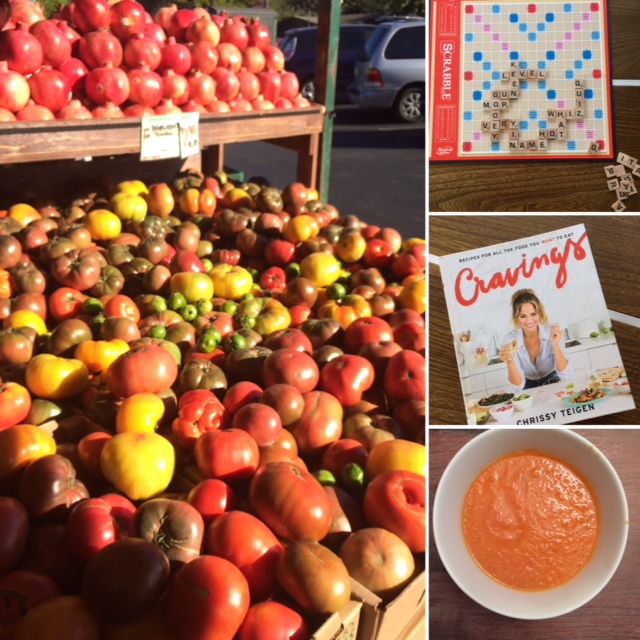 Autumn is one of my favorite times of the year. In California we don't get all four seasons but this year it's been a bit cooler, there's a misty fog that's been seeping in with the rain, and many of the leaves are turning gorgeous shades of orange and red. The smell of cinnamon and nutmeg permeates the air at the local bakery, pumpkin lattes magically appear on coffee shop menus, the excitement of Halloween is everywhere, and for me it's the time where I start making warm comforting soups.
At my favorite local vegetable market there have been dozens and dozens of colorful heirloom tomatoes on display. They are delicious on their own but if you do something as simple as roast them it brings out a sweetness and flavor that is hard to resist. I found a recipe for tomato soup in a new cookbook called "Cravings" by Chrissy Teigen. Surprisingly it's not a cookbook on losing weight or counting carbs but instead on comfort food full of flavor. Exactly what I look for in fall and winter. The "Roasted Tomato Soup" recipe is a definite keeper. It entails roasting tomatoes in the oven (I recommend heirloom if they're available). I simply added them to some sautéed onions and garlic in a cooking pot along with a few sprigs of rosemary and broth. It was delicious!
After a long week my husband and I were in the mood to stay in on a recent Friday night and have a Scrabble match. There was a steady drizzle outside and it was slightly chilly. I brought out the roasted tomato soup alongside slices of walnut bread and we played for the next two hours. It was the perfect accompaniment that evening; sweet, warm, flavorful, and great for dunking!   It will be making regular appearances on future cool and rainy nights.
Roasted Tomato Soup Recipe (From "Cravings" by Chrissy Teigen)
Ingredients
4 pounds ripe tomatoes
¼ cup extra virgin olive oil ( I used less)
1 tbsp salt
½ tsp fresh ground pepper
3 herb sprigs (whatever you like- I used Rosemary)
1 small onion finely diced
5 cloves garlic, minced
5 cups low sodium chicken broth
Roast the Tomatoes – Preheat the oven to 450F. Line a baking sheet with foil.
Core and halve the tomatoes (or quarter if they're big). Arrange the tomatoes, cut-side up, on the baking sheet. Drizzle with the oil, then sprinkle with the salt and pepper. Roast until softened and the edges are charred. 35 to 40 minutes.
Make the Soup – Tie the herbs with a piece of twine into a herb bundle.
In a large saucepan, heat the oil over medium-high heat. Add the onion and cook, stirring, until softened, 6 to 8 minutes. Add the garlic and cook 1 more minute. Ad the roasted tomatoes to the pan and break them up with a spoon. Add the broth and herb bundle and bring to a boil, then reduce the heat and simmer until thickened, 25 to 30 minutes.
Discard the herbs. Transfer the soup to a blender and puree until almost smooth but a few chunks remain ( I used a hand blender directly in the pot). Season to taste with salt and pepper.