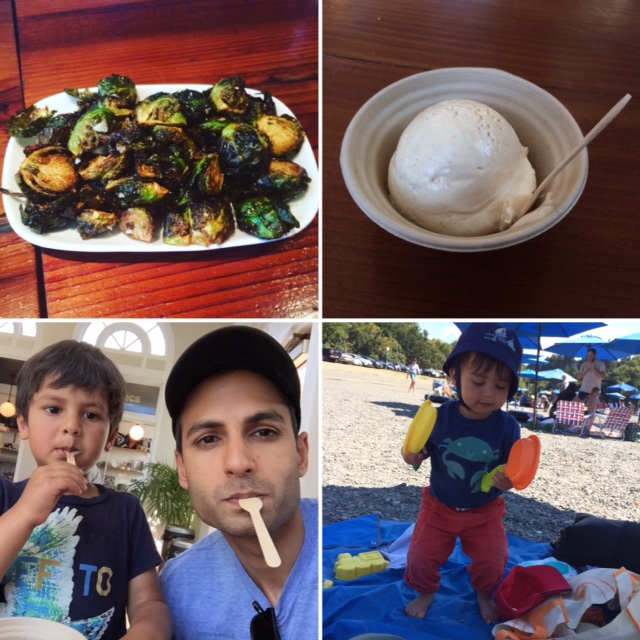 Yes, those were the two highlights of my labor day weekend; one savory and crunchy, the other indulgent and sweet.   Where did I find such delights?  Surprisingly in a little town called Guerneville two hours north of Berkeley known for the beautiful river running through it and the majestic redwoods surrounding it. Our first stop was Boon Eat & Drink which served up these amazing brussels sprouts. I know brussels sprouts have been all the rage in restaurants lately but these were something else. They had been flash fried and were crispy to perfection. There was a slight tang thanks to the lemon and a bit of a kick due to the chilli flakes. I can still taste it when I close my eyes.
After lunch we moved on to a hike in a forest with stunning redwoods. The tourist office gave us a "treasure map" for our toddler who happily tried to find the eleven "treasures" listed on our trail. Our one year old decided he wanted to ditch the stroller and try the hike himself but after discovering that his ten steps equaled one of our strides he finally succumbed to the stroller.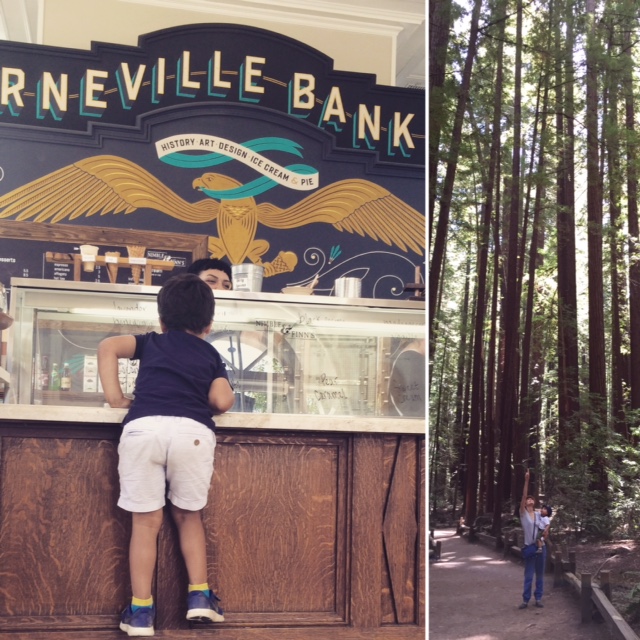 By the time we were done we were ready for some ice cream. We went back into town and discovered the Guerneville Bank Club, a bank built by a well known architect in 1921, beautifully restored, and now housing a selection of absolutely delicious and unusual ice creams. The original bank counters and flooring was still there. It was a lovely space and I went back twice just to have their pear and caramel flavor. An unusual but an absolutely delicious combination!
The next morning we spent lazily lounging near the river and Zain splashed in the water to his heart's content until it was time to head home.
I haven't attempted making the brussels sprouts as yet but I did look up the ingredients and will be trying them soon. In case you want to give it a go they are garlic, olive oil, lemon, lemon zest, and chilli flakes (and I suspect a bit of balsamic vinegar) If you're in a healthy mood bake them in the oven otherwise fry away!