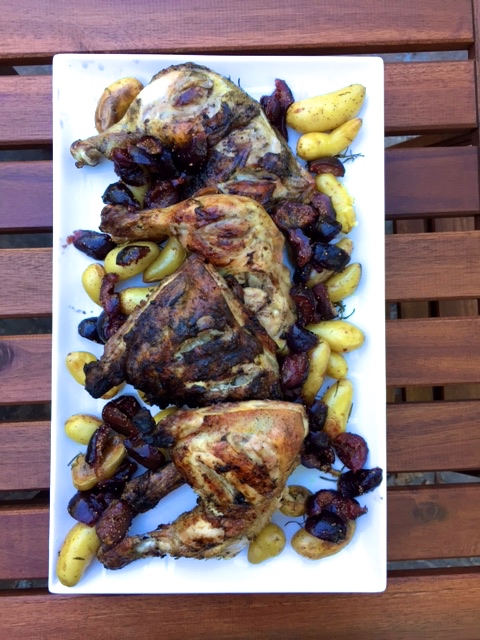 Figs are in season and I couldn't be more excited. I love their rich plum color, their slightly soft texture, and above all their sweet nectary taste. When I lived in San Francisco figs would only be in the store for about a week before they disappeared until the following year. This didn't give me much of a chance to experiment with them in my cooking. It's been a real treat to find them in abundance at Monterey market for the past few weeks and I've discovered figs can be really diverse ingredients in many cuisines.
Summer in the bay area arrives in September. We've recently bought some garden furniture and have been spending a lot of time outside. One of our favorite outdoor lunches or snacks is fig and goat cheese bruschetta. I love the contrast of the creamy tangy goat cheese with the sweet figs and the crunch from the baguette when I bite into it. I like to drizzle a little maple syrup on top and garnish it with mint to bring out the flavor.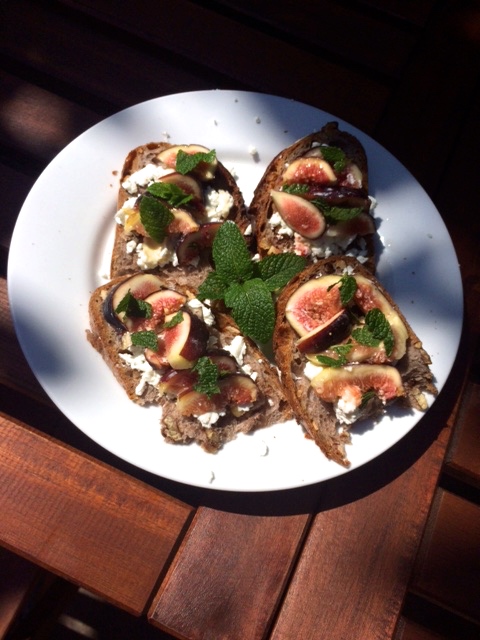 Last night I decided to take the plunge and incorporate figs into our dinner. We've started to have family dinners outside every Sunday which entails some sort of grilling. My rosemary roasted chicken with fingerling potatoes and grilled figs was inspired by Giada de Laurentis, one of my favorite Italian chefs, who recently shot a series in Tuscany where she cooks dishes inspired by the region. In her last episode she invited her family over to a beautiful Tuscan villa and ate a variety of dishes including one delectable one with chicken and figs. I could almost taste the freshness of the Tuscan ingredients through the TV screen but I think the produce in Berkeley could definitely compete.
I marinated the chicken legs with orange juice, a decent amount of salt, olive oil, and fresh rosemary for a few hours. I drizzled the fingerling potatoes with salt, olive oil, and some rosemary and wrapped them in foil and then put the figs in another pocket of foil with a bit of olive oil. Nadir put the chicken directly on the grill and the foil covered potatoes and figs under the heat as well. Within half an hour we had delicious meal; moist roasted chicken with potatoes and the figs were almost like candy as the heat had brought all the sugary sweetness to the surface. I quickly whipped up a yogurt horseradish sauce and we had a terrific meal. My one year old couldn't get enough of it thanks to the sweet figs!
Recipe for Fig and Goat Cheese Bruschetta
 Ingredients
Figs
Goat Cheese
Maple Syrup
Mint
Baguette
Directions
Slice and toast the baguette
Use your hands to crumble goat cheese on top of the bread
Slice figs and lay them on top of the goat cheese.
Sprinkle a bit of maple syrup and garnish with mint (optional)
 Recipe for Rosemary Chicken with Fingerling Potatoes and Roasted Figs
 Ingredients
Four large chicken legs
Fingerling potatoes
Figs (about one pound)
Fresh Rosemary
Juice from two Oranges
Salt
Olive Oil
Ingredients Horseradish Sauce
Greek yogurt
Ground horseradish (1.5 tsp)
Squeeze of citrus juice (either orange or lemon)
Salt
Chives
Directions
Preheat the oven to 450 F.
Put the chicken legs in a large gallon ziplock bag.
Mix 4 tbsp of olive oil, orange juice, fresh rosemary, and a generous amount of salt in a bowl.
Add the marinade to the bag, seal it, and shake it so that all the chicken pieces are covered with the mixture. Leave for at least 3 hours, preferably longer.
For the figs and fingerling potatoes drizzle them with olive oil and rosemary and put them in the same tray.
Put everything in the oven for about half an hour.
While food is in the oven take out some greek yogurt, mix with 1-2 tsp of ground horseradish (you can find this in the supermarket). Add salt and a squeeze of lemon or orange juice and add chives (optional).
Once the chicken is done take it out and serve with potatoes, figs, and horseradish sauce.
You can also grill the chicken on the barbeque and wrap the potatoes and figs in foil.
A side of green beans or salad is a good complement to this delicious dish!